CORESAFE CONSULTING…
Coresafe Consulting Ltd are a professional, competent and efficient Health and Safety Consultancy specialising in Construction, Workplace and Property

WHAT WE DO…
Coresafe Consulting Ltd are specialists in Construction, Workplace and Property Health and Safety. We work in partnership with you to identify and minimize risks, remove avoidable costs and improve business performance.

BESPOKE SERVICE…
Coresafe Consulting Ltd understand that every project or business has its own unique and exclusive requirements therefore we treat everyone in a bespoke way.

OUR TESTIMONIALS…
Highly professional, no hesitation in recommending. Personal, listened carefully. Highly Responsive, Great experience and expertise.

CONTACT US TODAY…
Give Coresafe Consulting a call today or drop us an email and we will deal with your enquiry expertly and professionally as quickly as possible.
CORESAFE SERVICES


Latest Blog Articles
Asbestos Survey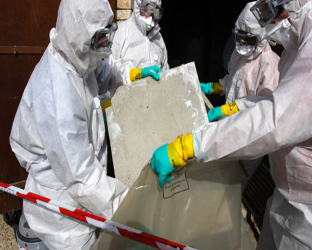 If you are responsible for, manage or own a non-domestic premises, under The Control of Asbestos Regulations 2006, you have a responsibility for protecting others who work in, or use such premises, from the risks to ill health that exposure to asbestos causes: The regulation covers all non-domestic premises, including industrial, commercial and public buildings such as factories, warehouses, offices, shops, hospitals and schools. Also included are those 'common' areas of certain domestic premises, (i.e. foyers, corridors, lifts and lift-shafts, staircases, roof spaces, gardens, yards, outhouses and garages).
Regulation 4 of the Control of Asbestos Regulations 2006 requires duty holders to:
Take reasonable steps to find out if there are materials containing asbestos in non-domestic premises, and if so, its amount, where it is and what condition it is in;
Presume materials contain asbestos unless there is strong evidence that they do not;
Make, and keep up-to-date, a record of the location and condition of the asbestos containing materials – or materials which are presumed to contain asbestos;
Assess the risk of anyone being exposed to fibres from the materials identified;
Prepare a plan that sets out in detail how the risks from these materials will be managed;
Take the necessary steps to put the plan into action;
Periodically review and monitor the plan and the arrangements to act on it so that the plan remains relevant and up-to-date; and
Provide information on the location and condition of the materials to anyone who is liable to work on or disturb them.
Coresafe Consulting Ltd can help you address your responsibilities as a duty holder by carrying out an Asbestos Survey of your premises, in which we will:
Identifying whether your premises contains asbestos, and, if so, where it is, the type, condition and extent of asbestos present, presented in the form of an Asbestos Register,
Assess the materials and assign risk scorings to identify priority of action,
Provide recommendations to areas of risk to ensure such areas are made safe either through removal, environmental clean or encapsulation,
Where materials are of low risk, make a plan of how you can manage that risk and act on it, i.e. an Asbestos Management Plan.
There are two types of survey offered, alternatively a combination of these can be written:-
Management Survey – Required during the normal occupation and use of the building to ensure continued management of asbestos containing materials in situ.
Refurbishment / Pre-Demolition Survey – Required when the building (or part of it) is to be upgraded, refurbished or demolished.
Please contact Coresafe Consulting Ltd for a discussion on your Asbestos Management requirements


Paul Jasper